Pontins Parks: 3-Night New Year's Break for Four with Entertainment at a Choice of Holiday Parks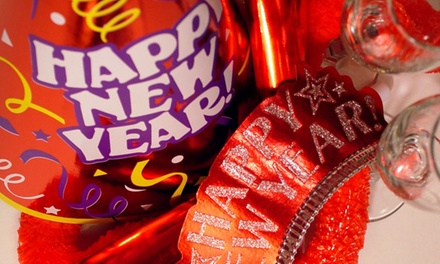 Price:
£249,00
Time left to buy:
Sold by:
Merchant:
Pontins
Pontins Brean Sands
Category:
Getaways
Share this deal:
About the deal
The Parks
Pontins invites holidaymakers to welcome the New Year with a fun-packed break with lots of activities and live entertainment every evening. The experience is complemented with vocalists', comedians', and party bands' shows, as well as games, karaoke nights, and discos for adults and children alike.
Facilities such as play areas, go-karts, skate parks, trampolines, crazy golf and heated indoor swimming pools are available at the parks.
In Somerset, Brean Sands Holiday Park peers across the sands of the West Country coast to the waves of the Bristol Channel.
Guests can also opt for a stay at Camber Sands Holiday Park in the east of Sussex, with a beach within walking distance that stretches towards the historic town of Rye.
Overlooking Welsh stretches of countryside, Prestatyn Sands Holiday Park sits just a 30-minute drive from Conwy Castle, enveloped in areas of outstanding beauty dotted with undulating sand dunes and laced by beach expanses.
The seafront Southport Holiday Park is flanked by golf courses and nestled between the award-winning beaches of Southport and golden sand dunes.
Groupon's Guide To Somerset
Bordered in the North by the Bristol Channel, Somerset is a rural county in South West England, characterised by rolling hills and large flat expanses.
In the area, attractions such as the caves of the Mendip Hills and the henge monument at Stanton Drew stone circles gather visitors from far and wide. On the northern coast of the Bristol Channel, Bridgewater Bay is a National Nature Reserve consisting of large areas of mud flats, saltmarsh, sandflats and shingle ridges, some of which are vegetated and home to over 190 species of overwintering waders and wildfowl.
Groupon's Guide To East Sussex
Bordered by Kent County to the east and Surrey to the north-west, East Sussex is part of the historic county of Sussex, which has its roots in the ancient kingdom of the South Saxons.
Often known for its landscaped grounds and nature trails, the region is the home of the Seven Sisters, a series of chalk cliffs, part of the Seven Sisters Country Park, between the towns of Seaford and Eastbourne. Another well-known attraction is the Royal Pavilion, an 18th-century royal palace built for King George IV, while holidaymakers may also take a trip to Old Town Hastings, a traditional British town where plenty of antique shops and unusual old buildings may be explored. Located in the seaside town of Eastbourne, East Sussex Falconry offers plenty of bird watching opportunities, from the known eagle or hawk to the more exotic white-faced owl.
Groupon's Guide To Denbighshire
The North Wales county of Denbighshire provides tourists with a wealth of outdoor activities including cycling, fishing, walking and canoeing.
In the market town of Denbigh, visitors may admire the historic sights such as Denbigh Castle, Burgess Gate, St Hilary's Tower, and Leicester's Church. Outdoor pursuits also include golfing on the National Championship course set along the River Dee in the Vale of Llangollen, horse-drawn boat trips and hiking in the Berwyn Mountains.
Groupon's Guide To Southport
Travellers may enjoy the seaside delights of Southport with a leisurely stroll along the pier or on the promenade alongside shimmering Marine Lake and pop into the many amusements along the way.
Shopaholics and those with a taste for antique architecture can visit the famous Lord Street Boulevard, where a host of boutique and big name stores are framed by Victorian glass canopies. Further attractions worth visiting include the King's Gardens, spread across 17 acres, the 19th century Hesketh Golf Course and Model Railway Village.
Terms and conditions
Cancellation Policy:
No modification or cancellation allowed after booking confirmation. Bookings are non-refundable and non-transferable to another destination once confirmed.
Validity:
Valid for arrivals on 30 Dec 2017 only. Price for 4 people.
Booking:
Must book within 4 weeks of purchase. For bookings and checking availability, please call:
0844 576 5944
. All bookings are subject to availability (calls are charged at 13p per minute plus your chosen phone company access charge). A valid Groupon voucher is required to process the booking. Must quote security code and voucher code when booking. Must bring Groupon voucher on redemption. May buy multiple vouchers to extend stay. No limit of vouchers per stay.
Other Information:
The parks are located in Brean, Somerset; Camber Sands, Sussex; Prestatyn, and Southport; UK. No city tax. No transfers included. Valid for stay in a one-bedroom popular apartment for 4 people. For all other terms and conditions check
here
or ask at the time of booking. For more information check
here
. The offer excludes bed linen and electricity. £10 surcharge applies for ground floor accommodation. Any surcharges will be paid directly to the hotel at the time of booking. Not all activities and entertainment are on all breaks. Many activities are free, some carry a small charge. Original values based on stays in a one-bedroom popular apartment arriving on 30 Dec 2017. Limited availability for these dates. Original values verified on merchant website on 21 Jul 2017. Vouchers sold by Groupon International Travel GmbH.